Herbert Marx, LL. L., cum laude, 1967
Herbert Marx Prize for Excellence in Legal Writing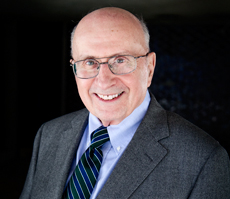 Professor of constitutional law at the Faculty (1969-1979)
Quebec Minister of Justice (1985-1988)
Justice of the Quebec Superior Court (1989-2007)
A professor of constitutional law at the Faculty between 1969-1979, he became a Liberal MP in the D'Arcy-McGee riding and was re-elected many times. Herbert Marx was also the Quebec Minister of Justice responsible for consumer protection and deregulation in the government of Robert Bourassa, and was subsequently named Solicitor General (1987-1988) and Minister of Public Security in 1988. In June 1989, he was named a Chief Justice of the Québec Superior Court.
Herbert Marx Prize for Excellence in Legal Writing
The Herbert Marx Prize for Excellence in Legal Writing is awarded in the fall session to one full-time student enrolled in the undergraduate law program at the Faculty of Law. This prize was established because Marx wanted to encourage students to pursue excellence in the writing of legal texts on the subject of public law; in particular, constitutional law and civil liberties law.