Juliette Vani, LL. B. 2012
LL.M. candidate with thesis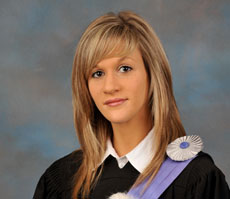 Me Juliette Vani is a LL.M. candidate under the supervision of Professor Pierre Noreau. Her research work pertains to the build up of a guilty verdict in criminal law.
In 2012, she earned her LL.B. with a mention of excellence from the Faculty. After obtaining the best marks in the first and second year of her undergraduate studies, she was awarded the 2012 Faculty Medal and the professors' award for best student in her cohort. She also received the Barreau de Montréal's award for excellence in civil law.
Since earning her LL.B., Me Juliette Vani worked for two years as a research lawyer at the Quebec Court of Appeal in Montreal.
She was recently recruited by the Chief Judge of the Supreme Court of Canada as a legal worker for 2016-2017.