The Tang Prize Foundation Makes a Major Donation to the Faculty of Law at the UdeM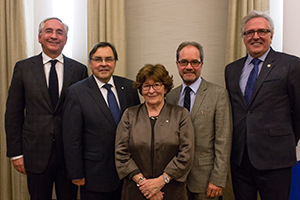 Louise Arbour, a 2016 Tang Prize laureate, chose to donate to the Faculty of Law the grant associated with the prestigious award
he Tang Prize Foundation donated $440,000 to the Faculty of Law at the Université de Montréal. Indeed, Louise Arbour, the 2016 Tang Prize laureate in Rule of Law, chose to give the total amount of the grant associated with the Tang Prize to the Faculty of Law. This generous gift will fund État de droit Arbour-UdeM—a research project that will span five years.
A Major Gift from Videotron
Recently, Videotron made a major donation of $125,000 to the Faculty of Law. This gift led to the creation of a new course, "Techniques de procès en litige civil" (Method of civil procedure), to be taught at the Faculty, starting with the 2017 winter semester. Thanks to a partnership between Videotron and the Woods law firm, undergraduate students will have access to this important course on civil and commercial law litigation. Indeed, the objective of this course will be to teach students practical skills to better equip them in the practice of law.
With an approach closely linked to the practice of law, this course will show the day-to-day of litigators (http://drt3951.openum.ca/). Under the responsibility of Professor Vincent Gautrais, the course will also rely on the expertise of two lecturers and experienced litigators from the Woods law firm, Me Bogdan Catanu and Me Marie-Louise Delisle. This generous gift from Videotron will also serve to award scholarships to students who set themselves apart in the completion of this course.
A New Graduate Scholarship Fund in Electronic Commerce
SSENSE donated $25,000 to the Faculty of Law at the Université de Montréal, earmarked for the creation of a scholarship fund. The name of the first recipient of this new scholarship will be announced in November 2017.
Founded in 2003 by brothers Rami, Firas, and Bassel Atallah, SSENSE is an online high-end clothing retailer based in Montreal. A major Canadian player in the field of electronic commerce, SSENSE advocates for a new vision where the concepts of creativity, content, and commerce meet and are revisited and celebrated. Innovation remains a top priority for the company, both in terms of style and technology.
By creating the SSENSE Scholarship, the organization aims to give back to the academic community, contribute to training the next generation, and foster passion and performance in students. Since SSENSE's modus operandi is focussed on electronic commerce and originality, the scholarship will be awarded to a graduate or postgraduate student from the Faculty with an exceptional directed study or dissertation on this topic.