A page of history with Réjane Laberge-Colas
LL. L. 1951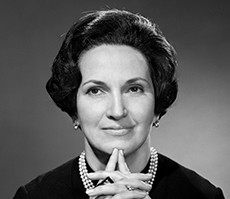 Réjane Laberge-Colas (1923-2009)
Founding President of the Fédération des femmes du Québec (1966)
First woman to be appointed to a Canadian superior court (1969)

Réjane Laberge-Colas ranked first at the Quebec Bar exam of 1952. In 1969, she was the first woman to be appointed to the Superior Court of Quebec—a position she held for more than 25 years. Family law held a significant importance in her judicial career. The Honourable Réjane Laberge-Colas and her husband, Me Émile Colas, set up a fund that enables the Faculty to award an annual scholarship in family law.