Robert Gratton, LL. L. 1966
Achille-Tassé and Louis-Côté Scholarships, Beetz-Laskin Conference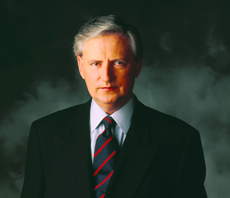 Achille-Tassé Scholarship
Every year, Robert Gratton, graduate of the Faculty of Law (1966), offers a $30,000 scholarship to one student who has completed a Bachelor of Law from the Université de Montréal and who wishes to pursue a Master's of Law (LL. M.) in a U.S. college endorsed by the donor.
This scholarship was created in the memory of Maître Gratton's very close friend, Maître Achille Tassé, who, upon his accidental death in August 1064, was a student of political science at the Université de Montréal, after having completed a Bachelor of Arts at Collège Sainte-Marie.
Louis-Côté Scholarship
To encourage graduates of the Faculty of Law to pursue studies in Canadian common law and to develop their skills in a globalized legal context, Robert Gratton offers two scholarships, each worth $7,500, in the honour of his great friend, Maître Louis Côté, who died accidentally in August 1964. These scholarships benefit students in the undergraduate law program who wish to pursue a fourth year of common law studies at the Osgoode Hall Law School at Toronto's York University.
During his studies, Louis Côté was actively involved in the student movement and was, most notably, the secretary of the Association générale des étudiants de l'Université de Montréal (AGEUM).
Beetz-Laskin Conference
This conference happens every two years, alternating between Montreal and Toronto, in memory of two once Deans of the Faculty of Law at the Université de Montréal and at the University of Toronto, who were also Justices on the Supreme Court of Canada. This conference spotlights the contributions of professors at both institutions and features a prestige address delivered by an international personality with no connection to either Faculty.