Caroline Dignard, LL. B. 1986
Legal Counsel,Vice President, Legal Affairs and Chief Privacy Officer, Cogeco Connexion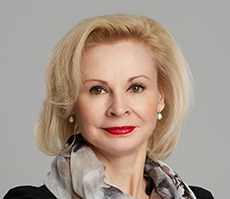 As Vice President, Legal Affairs, and Chief Privacy Officer for Cogeco Connexion, Me Dignard plays a prominent role in issues pertaining to legal compliance, both from strategic and operational standpoints. Under her leadership, the legal team of Cogeco Connexion was awarded the prestigious Best Canadian Legal Department Award on June 15, 2017, as part of the annual International General Counsel Awards ceremony held in New York City. This organization recognizes the best corporate legal, intellectual property, and fiscal departments in the world.
Me Dignard earned a Master's degree in business law (Executive MBA – EMBA), a joint program of HEC Montréal and McGill University, in 2010, and has been sitting on the program's advisory committee since 2013.
Me Dignard co-chairs the Cogeco Women Network, a group with the mission to provide women with the opportunities they need to perform well and progress in the organization. She is also a member of the Canadian Bar Association, the Association des diplômés en droit de l'Université de Montréal (Université de Montréal Law Graduates' Association) and the association of Women in Communications and Technology.