Marie-Eve Sylvestre, LL. B. 1999
Full Professor, Faculty of Law (Civil Law Section), University of Ottawa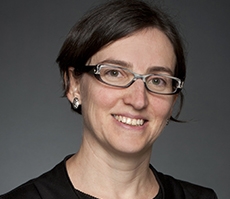 "I have fond memories of my time at the Université de Montréal. I met brilliant and inspiring professors, among which Anne-Marie Boisvert, Hélène Dumont, and Louise Rolland, who continue to be role models for me today. Not only did they pass on their passion for law and encouraged me to pursue a career in teaching and research, they also taught me how to recognize injustice and question the rules and practices rendering it possible."
A graduate from the Faculty of Law at the Université de Montréal, Marie-Eve Sylvestre is now a full professor at the Faculty of Law (Civil Law Section) at the University of Ottawa (https://droitcivil.uottawa.ca/en/people/sylvestre-marie-eve); an elected member of the Global Young Academy (https://globalyoungacademy.net/)—an assembly of young scientists from all over the world; and a founding member of the Observatory on Social, Racial and Political Profiling (https://profilages.info/). She is currently serving as an expert on the police and justice sectors for the Public Inquiry Commission on relations between Indigenous Peoples and certain public services in Québec (Viens Commission) (https://www.cerp.gouv.qc.ca/index.php?id=2&L=1).
Prof. Sylvestre is an expert in penal law, and law and geography. Her research focuses on the punitive regulation of poverty and social conflicts related to the occupation of public spaces in Canada (including conflicts related to homelessness, sex work, drug and alcohol use and political protests); aboriginal justice; and alternatives to prosecution. She is interested in the roles played by the law and judicial actors in creating and replicating inequalities, poverty, and social exclusion.
Following her graduation from the Faculty, Marie-Eve Sylvestre served as law clerk for Justice Charles Gonthier of the Supreme Court of Canada. She then went on to completing a Master's (LL.M.) and doctorate (S.J.D.) degree from the Harvard University Law School where she was a Frank Knox Memorial Foundation Fellow and the recipient of a doctoral award from the Social Sciences and Humanities Research Council of Canada. She was Visiting Professor at Paris X-Nanterre in 2010 and the Director of Graduate Studies in Law from 2010 to 2012, in addition to serving as Associate Dean, Research and Communications (2014-2017) at the Faculty of Law at the University of Ottawa.