Emilie Clairoux (LL.B. 2013, MBA 2014)
LL.M. 2018 (forthcoming)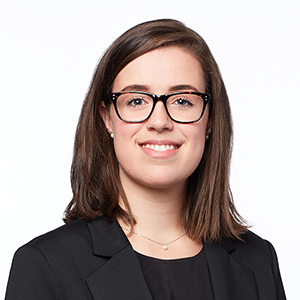 "What left the strongest impression on me at the Faculty of Law at the Université de Montréal are the people I met. I studied alongside exceptionally passionate, motivated, curious, and intelligent people, both among my colleagues and the teaching faculty. That's what makes the Faculty such a dynamic and rewarding place! Students learn in and out of the classroom with their colleagues by taking part in a wide range of conferences, symposiums, and research projects. For instance, as a Master's candidate, I had the opportunity to represent the Faculty at the international Law Without Walls competition through which I cultivated an impressive professional network. This challenging environment and all the possibilities it provides inspired me to push myself harder every day."
_____
Emilie is a Master's candidate in Business Law and a lecturer in the same field at the undergraduate level at the Université de Montréal. Previously, she earned a Bachelor of Laws and an MBA from the Université de Sherbrooke.
Emilie is particularly interested in legal issues pertaining to corporate governance, the stability of financial markets, and corporate compliance. Under the supervision of Prof. Julie Biron and Prof. Amissi Manirabona, she is collaborating on a project on corporate ethics and compliance as a research student at the Centre de droit des affaires et du commerce international (CDACI).
As part of her Master's, she is conducting research on the impact of regulatory standards for the independence and diversity of public administrators, under the supervision of Prof. Julie Biron.