A page of history with Daniel Johnson Sr.
LL. L. 1940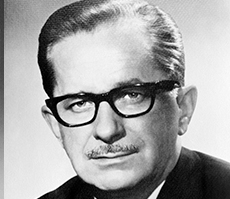 Daniel Johnson Sr. (1915-1968)
Premier of Quebec (1966-1968)

During his years at the Faculty, Daniel Johnson Sr. was President of the Association générale des étudiants de l'Université de Montréal (1938-1939). Under the slogan "Québec d'abord!" (Quebec first!), he led the Union nationale party to victory at the provincial election of 1966. As Quebec Premier from 1966 to 1968, he was one of the architects of the Quiet Revolution. Mr. Johnson died while in office on September 26, 1968 at the Manicouagan-5 dam, renamed Daniel-Johnson Dam in his memory. His two sons went on to become premiers of Quebec as well: Pierre Marc as head of the Parti Québécois in 1985, and Daniel Jr. as leader of the Liberal Party of Quebec in 1994.