Didier Lluelles
Full Professor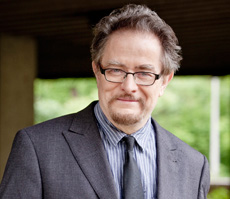 Associate Fellow, CDACI
2014–2015 André Morel Award
Professor Didier Lluelles was named 2014–2015 Faculty Professor of the Year at the year-end gala, held last April 2nd at the Corona Theatre, by the student association of Université de Montréal's Faculty of Law.
Professor Lluelles teaches law of obligations and insurance law at the Faculty. He is a researcher at the Centre for the Law of Business and International Trade and director of the Revue juridique Thémis de l'Université de Montréal. His path is a reflection of his commitment to the students and his contribution to the Faculty's vitality.
Professor Lluelles is the author, with his colleague Benoît Moore, of Droit des obligations [Law of Obligations], a treatise of over 2000 pages (Éditions Thémis, 2006), whose publication was well received by the civilian community. He is also the author of the now-classic Précis des assurances terrestres [Handbook of Non-Marine Insurance] and, with Professor Sébastien Lanctôt, of the manual entitled Droit des assurances, arrêts commentés et textes normatifs [Insurance Law, annotated judgements and normative texts].